Oilfield Divers Monument
It is time to acknowledge the many contributions of the oilfield diver. Since the very first over water oil well was drilled, these men and women significantly improved the oil and gas industry's ability to produce these natural resources. The Oilfield Divers Monument is a project of the International Petroleum Museum & Exposition, a 501(c)(3) corporation, in Morgan City, Louisiana. Monument donations are tax-deductible.
Project Team
Rusty Wright, Jack Vilas, Bryce Merrill, Virgil Allen and Micah Allen are the team. The team was formed to oversee the raising of funds to construct our monument, have the monument designed and built, and installed in Morgan City. We have a PayPal account and a PO Box for collecting funds. All funds are deposited in the ODM bank account. It requires two signatures to withdraw any funds.
Donation Information
Make your TAX-DEDUCTABLE DONATION
One of the following Two Ways
You can mail your donations to:
Oilfield Divers Monument
PO Box 1988
Morgan City, LA 70381
Our monument will be a life size bronze statue of an early oilfield diver "1965 to 1975" era, to commemorate all those who have worked underwater in support of the early international offshore oil and gas industry.
As early as 1896, oil wells were being drilled from piers extending off the beach at Summerland, California. In 1911, Gulf Oil drilled the world's first inland oil well in the waters of Lake Caddo, Louisiana. Since then, divers have been getting into the water to support the production of oil and gas around the world. None of these operations would have been possible without the first guy that jumped over the side to retrieve the lost tool, or to tighten the flange.
With over 100 countries producing offshore oil and gas. An extremely hazardous profession for over the water work was diving, which, by the late 1940s, had become an essential to offshore petroleum operations. Divers assisted in constructing, installing, repairing, and salvaging platforms and pipelines. The oilfield diver has been involved every step of the way. It's important to recognize those giants now and for the future.
The birth of professional offshore diving started in Morgan City in the late 1940s. Early diving companies were Frolich Brothers, Maritime Divers, Al Warriner's Underwater Services and Sanford Brothers. Also in Morgan City were World Wide and Wells and Cook. All these companies and more were built by larger-than-life get it done personas. The Sanford brothers, Jack Lahm, Buck Frolich to name a few.
Joe Savoie, Ben Miller and George Swindell all built dive hats, still being used around the world, today.
These divers and the companies they started, made incredible discoveries, break throughs and a steady improvement to the profession, including safety processes and procedures. Those efforts have been incorporated by many industries. From robotics, the medical field, and space exploration, just to name a few. This process continues even today.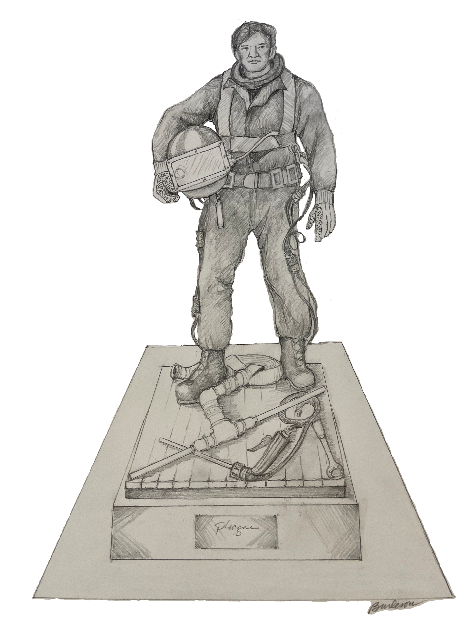 Our vision is of a bronze life size diver dressed in an early Desco helmet, that shows the transition from heavy gear to light gear. A burning torch, jet nozzle and a hammer wrench with hose laying on the deck.
Our granite wall behind the monument will include the early history of and some of the improvements in safety, equipment, and procedures made by those hard-working oilfield divers. The granite wall monument will also, include a QR code linked to our web-page https://www.oilfielddiversmonument.org on the International Petroleum Museum & Exposition web site https://rigmuseum.com.
We have selected Cindy Burleson of Burleson Bronze as the sculptor. Their work can be seen on their website. Our website presents more of the history of oilfield diving, early photographs, and links to diving schools and sponsor websites.
Together we can build this monument for the professional oilfield divers. It will inspire our young to follow their dreams and pay homage to those that went before us. And we need the support of everyone to recognize those GIANTS of the oilfield diving community.
If you have any questions or comments, please call one of the team members below.
Rusty Wright,
Project Manager
785.258.4180
Bryce Merrill
985.518.1000